Of course, Instructional Design is the most important part when it comes to training. However, digital learning solutions, such as eLearning authoring tools, could enable you to boost your workforce performance.
How eLearning Authoring Tools Will Boost Your Workforce Performance 
Learning anywhere, anytime, from any device. Impossible? This might have been the case before, but now possibilities have been expanded, thanks to eLearning authoring tools. In this article, we are going to share with you how to boost your workforce performance with eLearning authoring tools, as well as how you can leverage them to their full potential.
1. Learners Become Actors Of Their Training.
Knowledge is a great thing. And eLearning authoring tools are efficient tool to spread it. However, you can go way deeper: Enable your learners to take massive actions in their training!
Before, eLearning modules were kind of linear:
First, learners were going through the training, acquiring knowledge.
Then, at the end of the training, attendees have to complete a test / quiz, in order to do the assessment part.
While these procedures drove good results in the past, nowadays learners tend to get more and more fed-up with it.
Today, new trends start to emerge on the market, such as: Interactive training softwares, game-based learning softwares, 3D simulation softwares, serious game authoring tools.
eLearning authoring tools listed above all have one thing in common: Interaction and engagement.
These two elements are now key factors of success when it comes to learning simulations, and this is really what Instructional Designers should be looking for in their serious game development.
2. Enhance Learning Experience With Storytelling.
Sure, adding some dialogues and a little bit of context is always helpful for the learners to fully understand the pedagogical content and make it more realistic.
Nevertheless, thanks to eLearning authoring tools, you can go further, and push your storytelling to a whole new level: Create an engaging environments and scenarios, that will resonate with your audience as well as your organizations' core value!
Fortunately, thanks to new game-based learning platforms of the market, setting up your environments and scenarios have never been easier.
For instance, the serious game authoring tool ITyStudio has a library of ready-made content, in both 2D and 3D, that you can leverage to setup your graphical environments in a matter of minutes.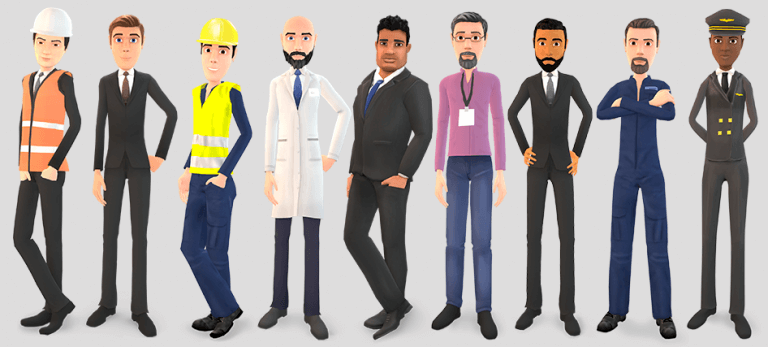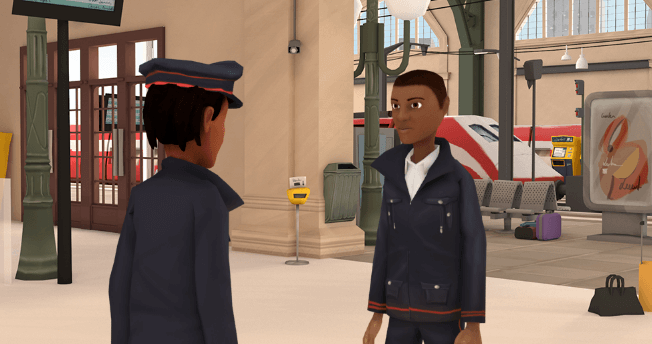 You can have a look at their complete library on the «Features» page of their website.
Besides, this 3D simulation software has also an easy-to-use tool for creating engaging scenarios and add storytelling: The scenario tree.
https://www.youtube.com/watch?v=Npyc2-wbRIg
3. Assessment Made Easy.
Among all advantages of online training, and eLearning authoring tools in general, one of the most impactful is assessment.
Thanks to SCORM compliant authoring tools, data can now be gathered into a Learning Management System platform, allowing training managers to analyze employees' performance with accurate data.
Consequently, eLearning authoring tools enable you to understand strengths and weaknesses of your learners, while measuring the ROI of your pedagogical content.
Information such as engagement rate, overall score, number of connections / hours spent on the module, will tell you if learners are using the training system, and whether they acquired new skills or not.
4. Mobility: eLearning Modules Available On Tablets.
Today more than ever, employees could be working from anywhere. A common practice in organizations is now to use other devices, such as tablets, to allow the workforce to get more efficient while in mobility. But how do you train employees on tablets? Impossible? It might have been the case for a long time, but now, thanks to eLearning authoring tools, you can make it happen!
HTML5 eLearning authoring tools, such as ITyStudio, thanks to their HTML5 export feature, can allow your training modules to get deployed on tablets.
You will find below a teaser video highlighting the core new features of ITyStudio, including the HTML5 export:
https://www.youtube.com/watch?v=U-7NHfzOtYw
5. eLearning Authoring Tools Are Easy To Use.
Last but not least: eLearning authoring are easy to use. Often, when speaking about web authoring tools, people tend to have negative thoughts, such as:
It is going to be expensive.
It will get complicated to deploy.
It will be time-consuming.
Well, here is the truth: None of the prejudices listed above are true. They are just myths about eLearning authoring tools.
Because images are always more impactful than words, you will find below a webinar about the serious game authoring tool ITyStudio, showing how to create educational that drive results from scratch. No technical skills required:
https://www.youtube.com/watch?v=Ll2MmgDxEws
Ready To Use eLearning Authoring Tools In Your Organization? Take Action!
In this article, we covered how eLearning authoring tools could boost your workforce performance.
If you feel concerned and see a potential in this training tool, you should definitely give ITyStudio a try!
This eLearning authoring tool contains all the features needed to implement the tips and tricks listed previously.
It is easy to use, it is engaging, and, best of all: You can try it for free!
Ready to go to the next level? Claim your 30-day free trial here!